What I have always longed for was the privilage of living forever away up on one of those mountains in the Sandwich Islands (Hawaii) overlooking the sea."
Mark Twain
South Seas Trading Company
Maui, Hawaii
Sun & UV Products
Measure ultraviolet light intensity
Protect yourself from sunburn
Protect yourself and your family from the harmful effects of ultra violet light - - premature aging, sunburn, skin cancer and cataracts. Did you know, one out of 3 Americans will develop some type of skin cancer in their lifetime?
The UV Card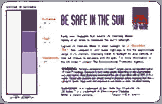 What is the UV Card?

A simple, reusable, credit card size device that indicates the ultraviolet light intensity.

How does it work?

The UV Card measures the strength of UV light (in about 20 seconds), to help you determine the optimum level of sunscreen SPF to use. You'll be surprised at how much UV light exposure you receive even on cloudy days, or through windows.

UV 100 $4.95 each










The UV Monitor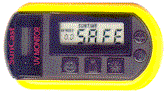 Perfect for a Winter Sojourn to the Tropics
The UV Monitor will provide you with an accurate measurement of harmful ultra violet rays.
The UV Monitor can:
1) Measure current UV Index
2) Measure cumulative UV total, and sound alarm
3) Adjust for skin type
4) Account for SPF sunscreen factor

UV 200 $29.95 each
Instructions for use